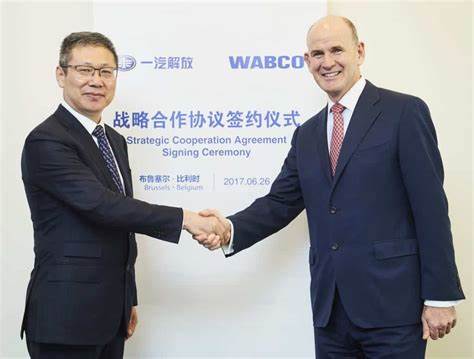 WABCO and FAW Jiefang Announce Joint Venture

19 \ Feb
WABCO announced that it has signed an agreement to establish a new joint venture for vehicle control systems with FAW Jiefang Automotive Company to advance the safety and efficiency of commercial vehicles in China. This includes accelerating WABCO's single-piston air disc brake (ADB) technology leadership in China.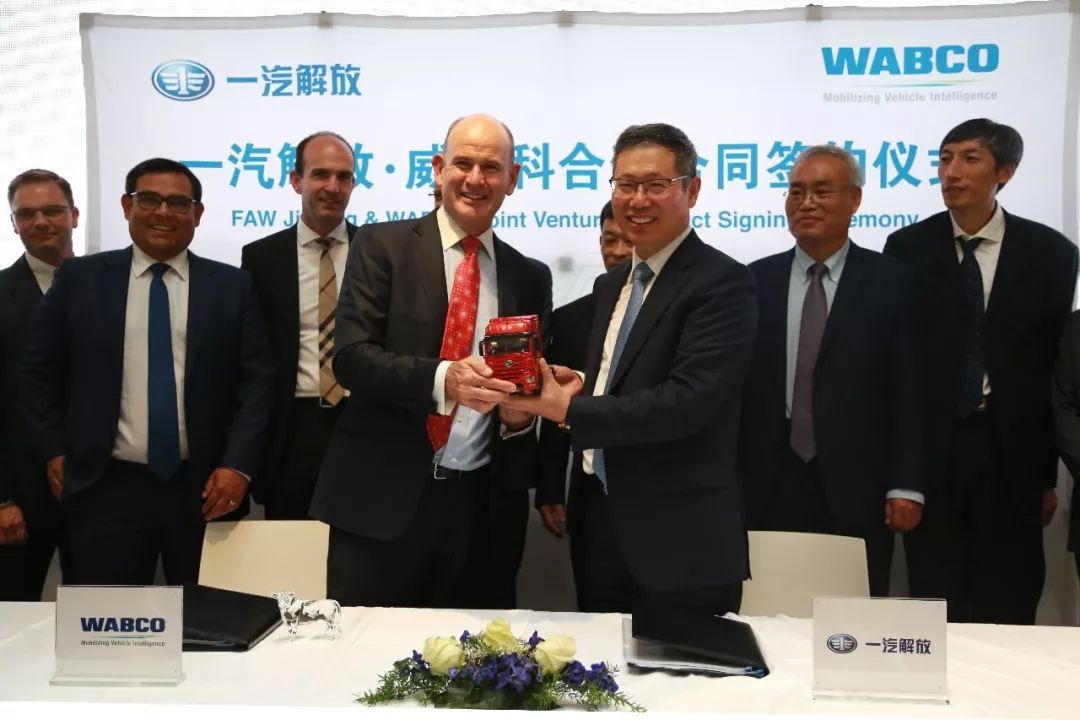 An innovative and market-leading commercial vehicle manufacturer, FAW Jiefang has built its world-class manufacturing capabilities, industry expertise and trusted-partner reputation over 60 years. Combined with WABCO's technology leadership and advanced manufacturing capabilities, the joint venture will commence with the manufacture of WABCO's advanced MAXXTM single-piston ADB from 2019.
With over six million single-piston ADB systems sold, WABCO is the long-established global market leader for this advanced technology. A major focus of the joint venture will be heavy-duty trucks given WABCO's mastery of single-piston ADB technology for 30,000 Nm applications which have a compact, lightweight design with fewer components and are proven to deliver the highest standards of safety, performance and reliability. Superbly engineered, WABCO's industry-leading, high-performance single-piston ADB technology is best suited for all types of commercial vehicles – light, medium and heavy-duty platforms.
This is the first step in a much broader collaboration. WABCO and FAW Jiefang are also planning to cooperate on advanced braking systems development in the areas of autonomous driving, active safety systems and fleet management systems (FMS) to help support commercial vehicle manufacturers and fleets in China to further transform safety and efficiency.
"Powerfully building on the success of over two decades of partnership, this new joint venture marks an important acceleration of WABCO's collaboration with FAW Jiefang, and further strengthens the market position of two industry leaders in China," said Sujie Yu, Vice President, Asia-Pacific and Business Leader China, WABCO. "With this exciting new joint venture we will be able to better serve our customers in China with more advanced WABCO technologies."
"Proud of our reputation as the "cradle of China's auto industry," FAW Jiefang is committed to building the "most trusted truck brand" by accelerating our twin strategies of independent development and proactive collaboration with the world's most advanced technology leaders. Uniquely combining our respective strengths, our joint venture with WABCO represents a powerful alliance between two leading brands," said Hu Hanjie, Chairman, FAW Jiefang Automobile. "Our close partnership with WABCO will add new momentum to FAW Jiefang's future development which will help propel China's commercial vehicle industry towards an intelligent, lightweight, low-carbon and safer future."
Building on a supply relationship of over 20 years, WABCO has provided FAW Jiefang with an industry-leading and cost-effective portfolio of safety and efficiency technologies, as well as product development expertise. In addition, WABCO has drawn from its global capabilities to deliver differentiating training and world-class technical support to FAW Jiefang.